In the middle of Southern Jutland is Jels located - a small town with around 2.000 inhabitants - in beautiful surroundings. Here our farm called "Slotsgaarden" is located and you and your family have the opportunity to stay for the night.

The farm is situated only 50 meters from Jels Nedersø (a lake), with it's brand new Jels Søbad (outdoor swimming area) and only around 300 meters away is Royal Oak Golf Club located, an 18 hole golf course of international standard. It's also possible to fish, watch »Jels Vikingespil« or visit the Orion Planetarium in Jels. Furthermore is it possible to enjoy a meal at the Royal Oak Café og Restaurant and to buy daily consumer goods in either SuperBrugsen or Kiwi. You can read more about Jels on jels.dk.

In a slightly longer distance from "Slotsgaarden" you'll find Rødding Svømmehal (public indoor swimming pool with mini water park), Rødding Højskole (folk high school), Kolding Storcenter (shopping mall), Legoland etc.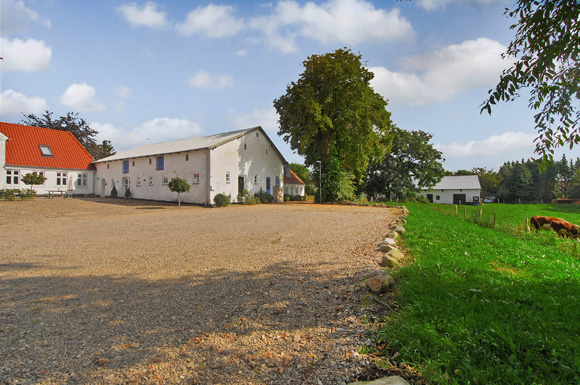 "Slotsgaarden" consists of five newly renovated and charming rooms in a cozy old barn. Four of the rooms have between two and four beds and private bathroom. The last room is a single room with toilet in the corridor. At one end of the barn you will find kitchen facilities and a small living room with seating for 12 people, which is free of charge. We have room for bicycles etc. when you stay with us.

"Slotsgaarden" has roots all the way back to 1690. The farm is built of stone from the nearby Jels Voldsted, hence the name "Slotsgaarden" (castle farm). The farm has a unique location in the middle of Jels, within walking distance of the city center.

All rooms have TV and internet access.



Prices of accommodation (per night without breakfast and bed linen):
- 250 DKK per person in a single room without private toilet/bath.
- 300 DKK per person in a single room with private toilet/bath.
- 400 DKK per couple in a double room.
- 550 DKK per family in the family room (2 adults and 2 children up to the age of 14).

Possibly appendix:
- 40 DKK per person for bed linen incl. towel.
- 100 DKK for each extra bed.
- 50 DKK for renting bicycles.
- Discounts are given for more than 1 night. Please ask for more information.

If you are a group, we can give you an offer on accomodation. Contact us via email for an offer.

We are pleased to welcome staying guests in our idyllic surroundings.